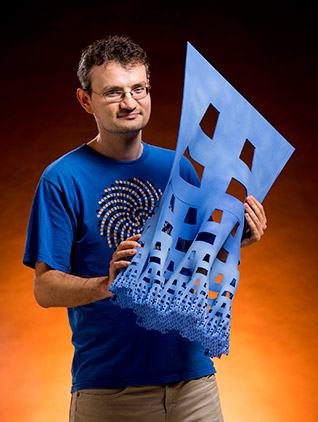 Teaching
Coming up: April 3-5, the Spring 2015 Redbud Geometry / Topology Conference, to be held at OSU.
This semester I am teaching Math 6323: Algebraic Topology.
In fall 2014 I taught Math 2163: Calculus III, Section 012, and
Math 5313: Geometric Topology.
In spring 2014 I taught Math 2163: Calculus III, Section 701 (Hono(u)rs).
In fall 2013 I taught Math 2153: Calculus II, Sections 005 and 006.
Papers and preprints
Geometry and Topology
Mathematical Art and Recreational Mathematics
My Ph.D. thesis is available here (submitted May 2007). It bears a striking resemblance to the paper "Detection of incompressible surfaces in hyperbolic punctured torus bundles".
I designed the cover art and all illustrations for the book Blast into Math! by my friend Julie Rowlett, published January 2013.
Talks
Slides and notes from some of my talks (see my CV for more):
On 23rd February 2008 I gave a talk to the University of Texas Mathematics Department's Saturday Morning Math Group (for an audience of around 200 high school students from nearby schools in the area), you can see a video of it here (scroll down to my talk).
Art Exhibitions
Press
15 Feb 2015: I gave a talk on visualising four-dimensional objects at the annual meeting of the American Association for the Advancement of Science. Science, New Scientist and NBC News wrote blog posts about it.
30 Oct 2014: Alex Bellos wrote a blog post for The Guardian entitled "Pumpkin geometry: stunning shadow sculptures that illuminate an ancient mathematical technique", on stereographic projection sculptures by Saul Schleimer and me.
19 May 2014: Evelyn Lamb wrote a blog post for Scientific American on "More fun than a hypercube of monkeys", a sculpture by my brother Will and me, inspired by a question of Vi Hart.
15 March 2013: Megan Gambino wrote a blog post for Smithsonian magazine on my 3D printed sculpture.
31 October 2012: Evelyn Lamb wrote a blog post for Scientific American on the "30-cell puzzle", a 3D printed puzzle by Saul Schleimer and me based on the 120-cell, one of the regular 4-dimensional polytopes.
23 August 2012: My sculpture "Dual Half 120- and 600-Cells" (joint work with Saul Schleimer) won the "Best Use of Mathematics" prize (one of four prizes awarded) at the Bridges conference 2012. It was featured in a slide show on the Scientific American website.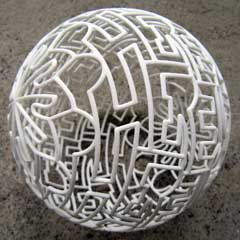 January 2012: I was interviewed for an article in the "Voice", a publication put out by the University of Melbourne, on "The language and art of maths". Here is the article. The online version of the article is missing the image (shown here) that went with the article. Alternatively, here is a pdf of the whole publication, which includes the article (on page 4) together with the photograph.
6 December 2011: I was interviewed by BBC Radio 5 about mathematical art and 3D printing. Here is the blogpost for the podcast. Here is the direct link to the mp3.
February 2008: I was interviewed on She Blinded Me With Science!, a show on the student radio station KVRX, talking about topology and juggling. You can listen to the interview here.
Links
My Hilbert curve 3d print is available at vismath.eu, a German mathematics website and shop (English language version).
Go here for my personal website. Particularly math(s) related things: 3D printed sculpture, Autologlyphs, Escher's Printgallery at Stanford, Book Covers and Posters, T-shirt designs.
For keeping track of your and your friends' (lack of) mathematical progress: Ways to Go Wrong Tally Sheet.
My old University of Melbourne math website is here. My old University of Texas math website is here. My old Stanford math website is here.
This page last updated: