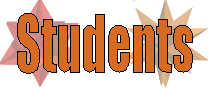 General
Student Projects
Student Projects: Basic Ideas

"Basic Ideas" projects are presentations developed by students to creatively express their understanding of the big ideas underlying geometry. Topics chosen are among those which students often find difficult or confusing.

Student Projects: Decorative Art

Beautiful examples of mandalas, borders, and Escher style tessellations can be seen through this link.

Student Projects: General

This page has links to examples of geometry project assignments and many really imaginative student creations in response to these assignments.
Mathematics--Reading Connections