No events found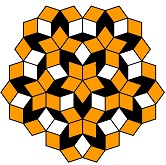 The eleventh of the new series of contests, and the second annual Math Day was held on Monday, October 3, 2016, at the Student Union on the Stillwater campus of OSU.
On Tuesday, August 30th, our very own Angela McFarlin was recognized at the annual College of Arts & Sciences Convocation. Angela was presented with an Outstanding Staff Award. While receiving the award, remarks from colleagues on her exemplary work performance were read aloud by Dean Danilowicz. Giving everyone in attendance a snapshot of the wonderful work that Angela does to maintain a welcoming environment and keep the math department running smoothly. Congratulations Angela, this is an award that only begins to speak to the outstanding effort that you put into the Math Department daily.
Interested in three-dimensional ideas? Look no further than Dr. Segerman's new book Visualizing Mathematics with 3D Printing.