---
Thank you to all Participants for a wonderful conference. Enjoy the conference photos: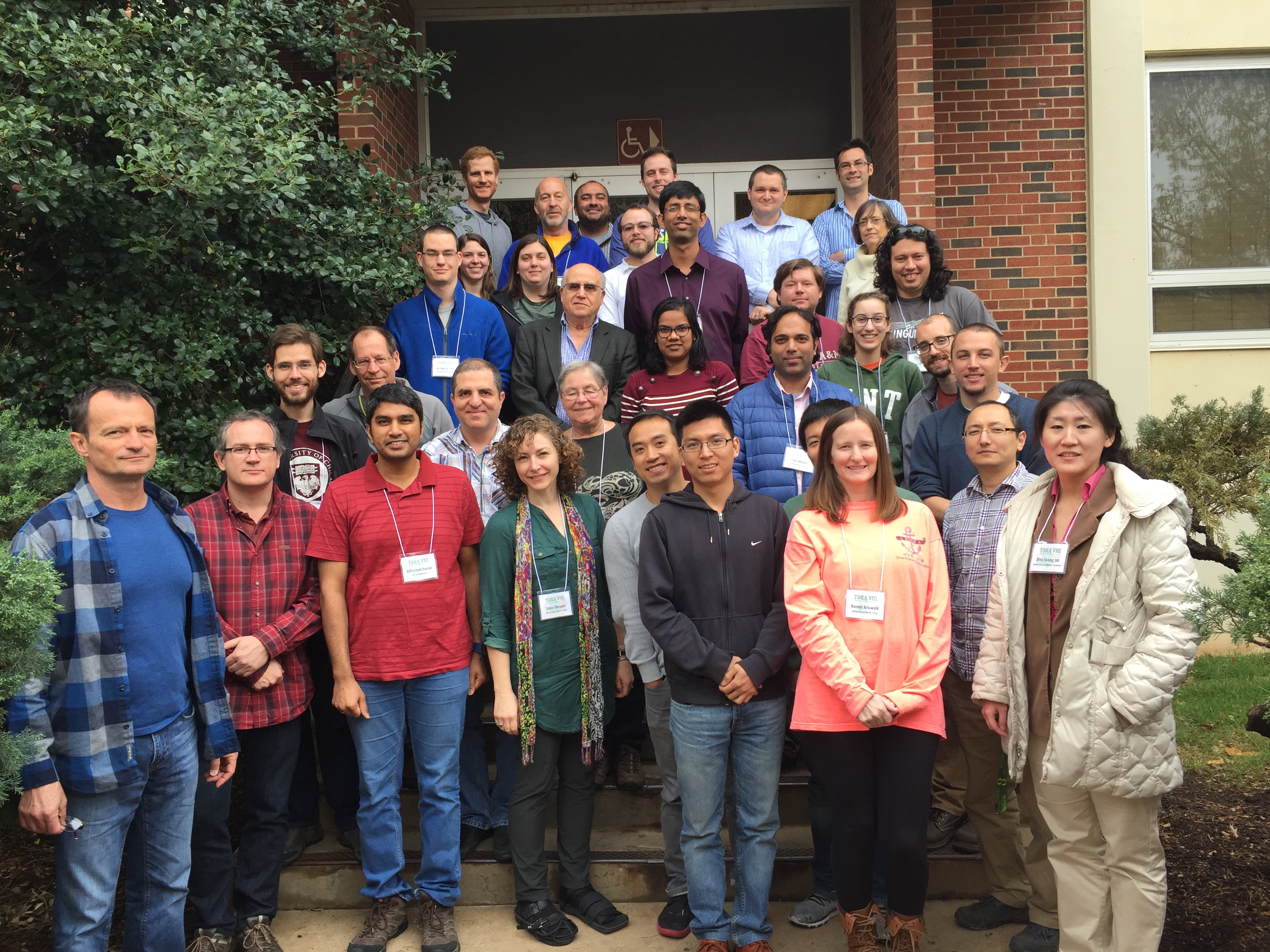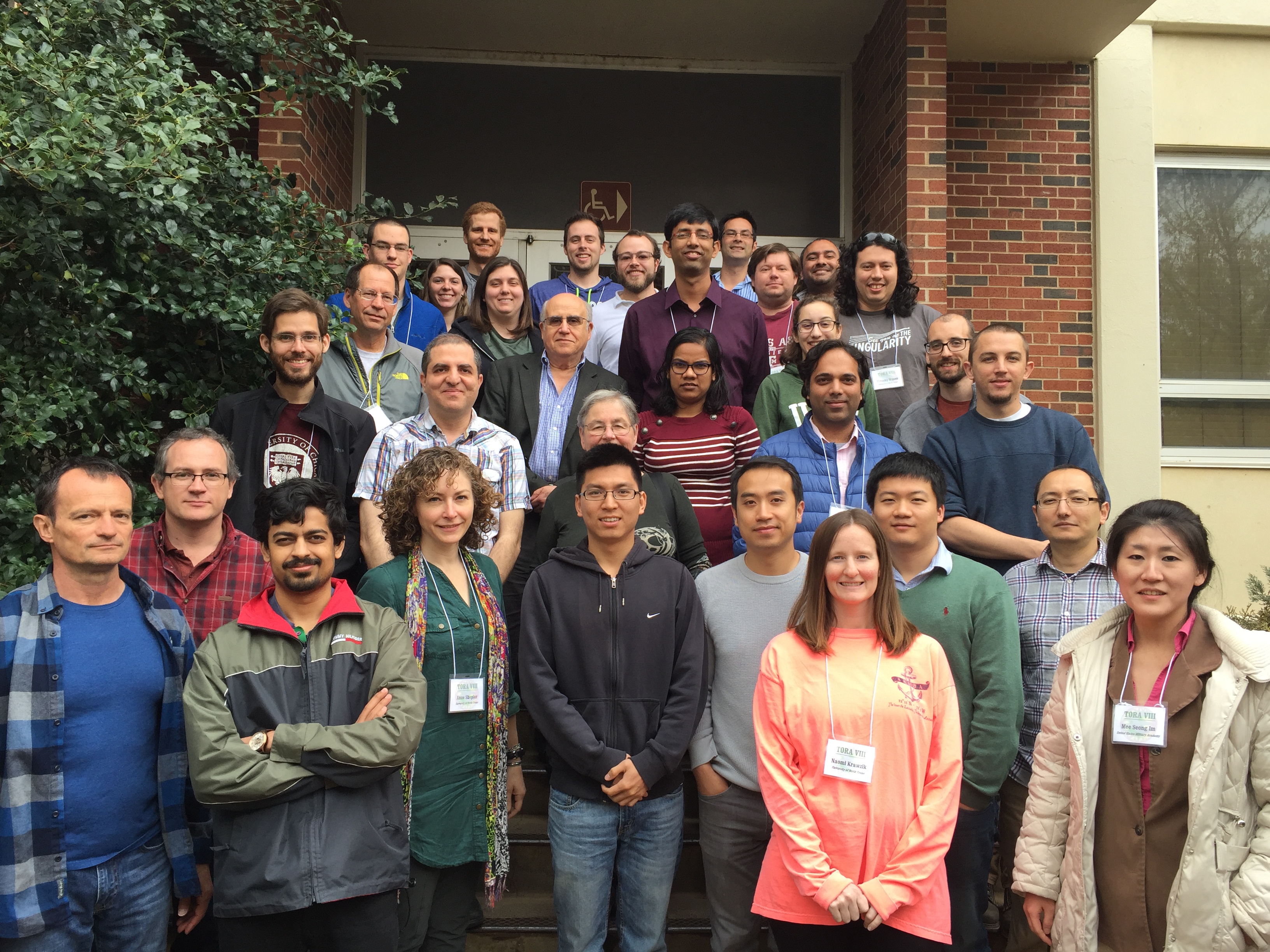 Or, for higher resolution JPG files:
Photo 1
Photo 2

---
Description: Texas-Oklahoma Representations and Automorphic forms (TORA) is a series of conferences hosted in rotation by Oklahoma State University, the University of Oklahoma, and the University of North Texas. The TORA meetings will bring together the automorphic forms and representation theory community of the South Central region to hear about recent research in automorphic forms and representation theory. For more information see the TORA main page.
TORA VIII is funded by NSF grant DMS 1600473.
---
Information on TORA VIII
Dates: Friday, March 31 - Sunday, April 2, 2017.
Location: Room 101, MSCS Building, Oklahoma State University.
Plenary Speakers:
Schedule of Talks: The schedule and abstracts for the lectures as well as those for Speed TORA and the Poster Session are below.

Schedule
Abstracts
Speed TORA
Poster Session

Conference Location: To see the key locations on a map go here.

The Department of Mathematics is in the MSCS building, which can be located on the campus map.
A pdf campus map can be found here. Also look at this page.


Registration: If you would like to participate in the conference, please send an email with the following information to Mahdi Asgari and Roger Zierau.

Name; Institution; Student/Postdoc/Faculty/Other(specify); Arrival/Departure date and time.

Those who have received funding from the conference will also have their hotel accommodations arranged and paid for directly by the conference organizers. Other participants, who are not receiving financial support from the conference, are asked to please make their own hotel arrangements. Blocks of rooms have been reserved at two local hotels which offer special rates for TORA VIII participants. See details under Accommodations below.
Confirmed participants: A list of confirmed participants can be found here.
Participant support: The deadline for requesting support has already passed. Participants who requested funding have been/will be contacted via email with the details.
Accommodations: The following two hotels have been designated as conference hotels at special rates. These rates are guaranteed for the TORA VIII participants if reserved at least 30 days prior to the start of the conference. If you are a participant and we are not making your reservatios for you directly, please contact one of the hotels directly and mention the "TORA conference" prior to the cutoff date in order receive these special rates.

The Atherthon Hotel ($109.95 per night for single and $119.95 per night for double). This hotel is on campus and a 1-2 minute walk from the MSCS building where the talks will be held.

The Cimarron Hotel and Suites ($91 per night). This hotel is on the eastern edge of campus and a 10-15 minute walk from the MSCS building where the talks will be held.
Travel: Oklahoma State University is located in Stillwater, OK.
Stillwater has a regional airport (SWO) with limited service (two arriving and two departing flights per day) by American Airlines from its hub at DFW. Alternatively, one could fly to either Oklahoma City airport (OKC) or Tulsa airport (TUL), both of which are about 75 minutes drive from Stillwater. There is no convenient shuttle service from these airports to Stillwater though. Rental cars are recommended. If you are flying, we recommend SWO due to its convenience. Feel free to contact the organizers for more details.
Parking: Parking after 5 PM and over the weekend is available for free in campus parking lots, e.g., the lot adjacent the MSCS building whose entrance is off "South Monroe St". Please pay attention to the posted sings as some parking spaces are restricted to certain vehicles all the time including the weekends.

Those needing parking prior to 5 PM on Friday can use the few metered parking spots available in the lot adjacent to the MSCS building, which have limited time and availability, or use street parking south of campus on the streets south of University Avenue. There are also a few parking garages within walking distance of the conference location which have paid visitor parking. See this page for details.
Local Organizing Committee: Mahdi Asgari (OSU), Dermot McCarthy (Texas Tech), Roger Zierau(OSU).
---
Last updated: March 27, 2017.