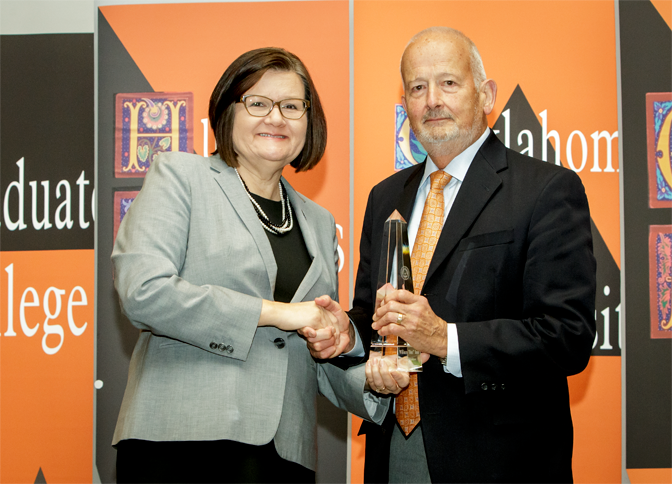 Dr. Pamela Fry, Vice Provost, presents Dr. William Jaco with the 2017 Eminent Faculty Award
Dr. William Jaco was awarded the Eminent Faculty Award on Wednesday, December 6, 2017. He is being honored for his sustained, outstanding contributions to scholarly-creative activity, teaching, and service, thus bringing honor and recognition to Oklahoma State University.
Dr. Jaco's service to Oklahoma State University and the Department of Mathematics is abounding. He has served as Head of the Department of Mathematics on two separate occasions; 1982-1987 and 2011- 2018. He has been the Executive Director of the Initiative for Mathematics Learning by Inquiry since 2016, a Regents Professor since 2008, and a Grayce B. Kerr Endowed Chair since 1993.
The Department of Mathematics at OSU is fortunate to have Dr. Jaco. He is a venerable faculty member who is regularly reaching out to bring resources to Oklahoma State University, while maintaining a bolstering presence at conferences and other math functions. Congratulations to Dr. William "Bus" Jaco on receiving Oklahoma State University's highest faculty honor.
You can find more about Dr. Jaco's award here.