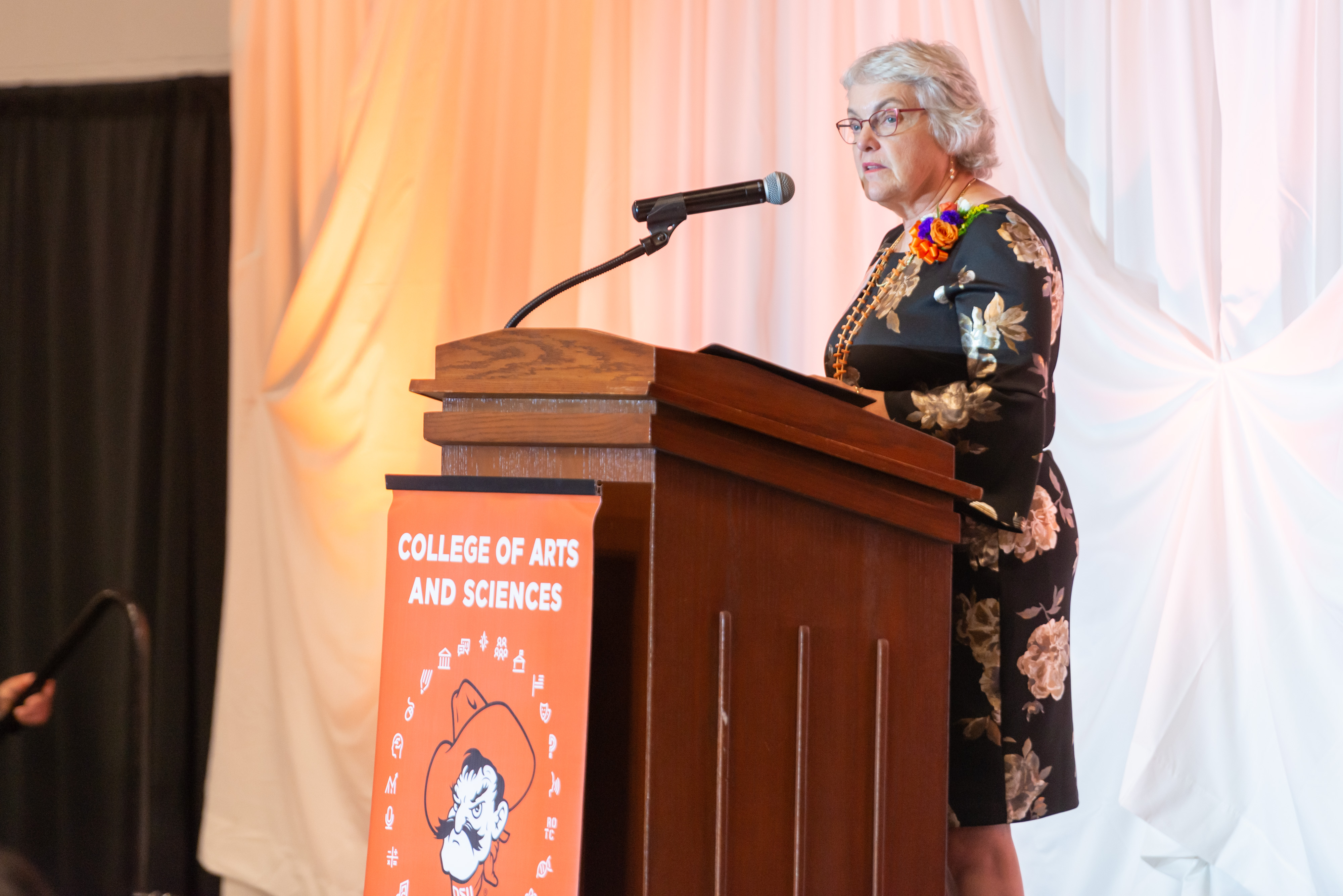 Ardoth Hassler came to OSU intending to become a high school math teacher. She left in 1972 with a degree in mathematics, as many courses in computer science as she could take, and the background she needed to start an outstanding career of over 45 years in academic computing. In recognition of her many accomplishments, the College of Arts and Sciences honored Hassler as one of two inductees in the CAS Hall of Fame class of 2019.
After leaving OSU, Hassler earned a master's degree in biostatistics from the OU Health Sciences Center, and she began her career as a scientific programmer. In 1979, she went to Catholic University to serve as their head of computing, spending 16 years there before moving to Georgetown University in 1995. At Georgetown, Hassler wore many hats, working on IT policy issues in higher education, heading Institutional Research, and providing computing support for research. Hassler rose through the ranks at Georgetown and retired as Associate Vice President for University Information Services. Near the end of her time at Georgetown, Hassler was on loan to the National Science Foundation as Senior IT Advisor, providing guidance to large national research labs on cybersecurity issues. She is known especially for her vision in recognizing the need to support basic research as part of the IT mission in higher education and implementing policies and infrastructure to provide vital tools for researchers.
Hassler credits the mentoring of long-time OSU faculty member Jeanne Agnew and the classes she took while at OSU. "My OSU education fostered a 45-year career in IT and higher education. The technical foundation I had in math and computer science at OSU launched me on that path," Hassler said in her induction speech. "I was fortunate to meet Jeanne Agnew… She was teacher, advisor, mentor, and friend, and we stayed in touch until her death."
"Ardoth Hassler is a perfect example of what it means to be an outstanding graduate of the College of Arts and Sciences," Department Head Chris Francisco said. "When she graduated from OSU, she had a great background in math and computer science. But in a field like computing, everything is continually changing. She had to adapt to a new environment all the time, and no one could possibly have envisioned what the technology would be like 10, 20, or 40 years down the road. To be called upon by the National Science Foundation 40 years after graduating to provide advice to the leading large research facilities in the world about cybersecurity is incredibly impressive."
Hassler commented on the value of an Arts and Sciences education during the Hall of Fame banquet. "It wasn't just math and CS; it was the well-rounded liberal arts education that I got at OSU. It enabled me to become a "boundary bridger…" I worked from the classics to medicine to sciences and the arts. I was most proud as an undergraduate of being selected for Mortar Board. The Mortar Board tenets of scholarship, leadership, and service, I learned at OSU."
As part of the Hall of Fame weekend, Hassler and her husband, Jim Short, an engineer who also had a distinguished career in government and academia, visited the math department before the banquet, and Hassler gave that week's colloquium. She talked about how her background in math helped in her career in academic computing and spoke of the value of mentoring and the need to encourage members of groups underrepresented in the mathematical sciences.
"We are so pleased to have been able to honor Ardoth as our outstanding alumna and that the College of Arts and Sciences selected her as a Hall of Fame inductee," Francisco said. "She has had such an incredible impact on academic computing, particularly in enabling breakthroughs in basic research in so many areas. It was fascinating to hear her talk to our students and faculty about how she was able to achieve all that she has, and she offered some great advice about mentoring and moving toward a more inclusive community in STEM and higher education."