Dr. Jaco receives Eminent Faculty Award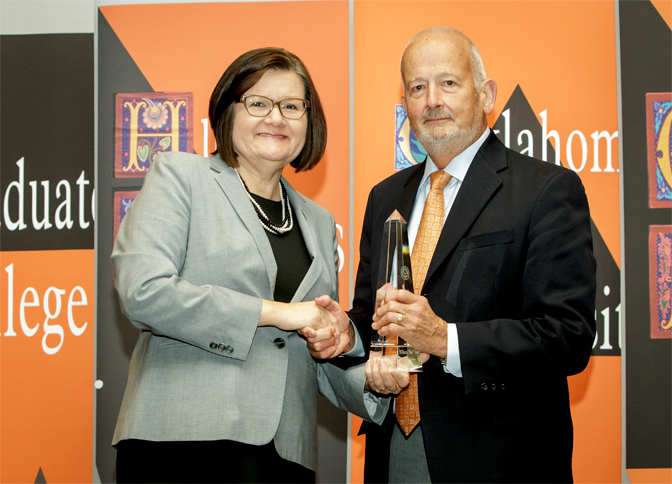 Dr. Pamela Fry, Vice Provost, presents Dr. William Jaco with the 2017 Eminent Faculty Award
Dr. William Jaco was awarded the Eminent Faculty Award on Wednesday, December 6, 2017. He is being honored for his sustained, outstanding contributions to scholarly-creative activity, teaching, and service, thus bringing honor and recognition to Oklahoma State University.
Dr. Jaco's service to Oklahoma State University and the Department of Mathematics is abounding. He has served as Head of the Department of Mathematics on two separate occasions; 1982-1987 and 2011- present. He has been the Executive Director of the Initiative for Mathematics Learning by Inquiry since 2016, a Regents Professor since 2008, and a Grayce B. Kerr Endowed Chair since 1993.
The Department of Mathematics at OSU is fortunate to have Dr. Jaco. He is a venerable faculty member who is regularly reaching out to bring resources to Oklahoma State University, while maintaining a bolstering presence at conferences and other math functions. Congratulations to Dr. William "Bus" Jaco on receiving Oklahoma State University's highest faculty honor.
You can find more about Dr. Jaco's award here.
OK-LSAMP at Field of Dreams Conference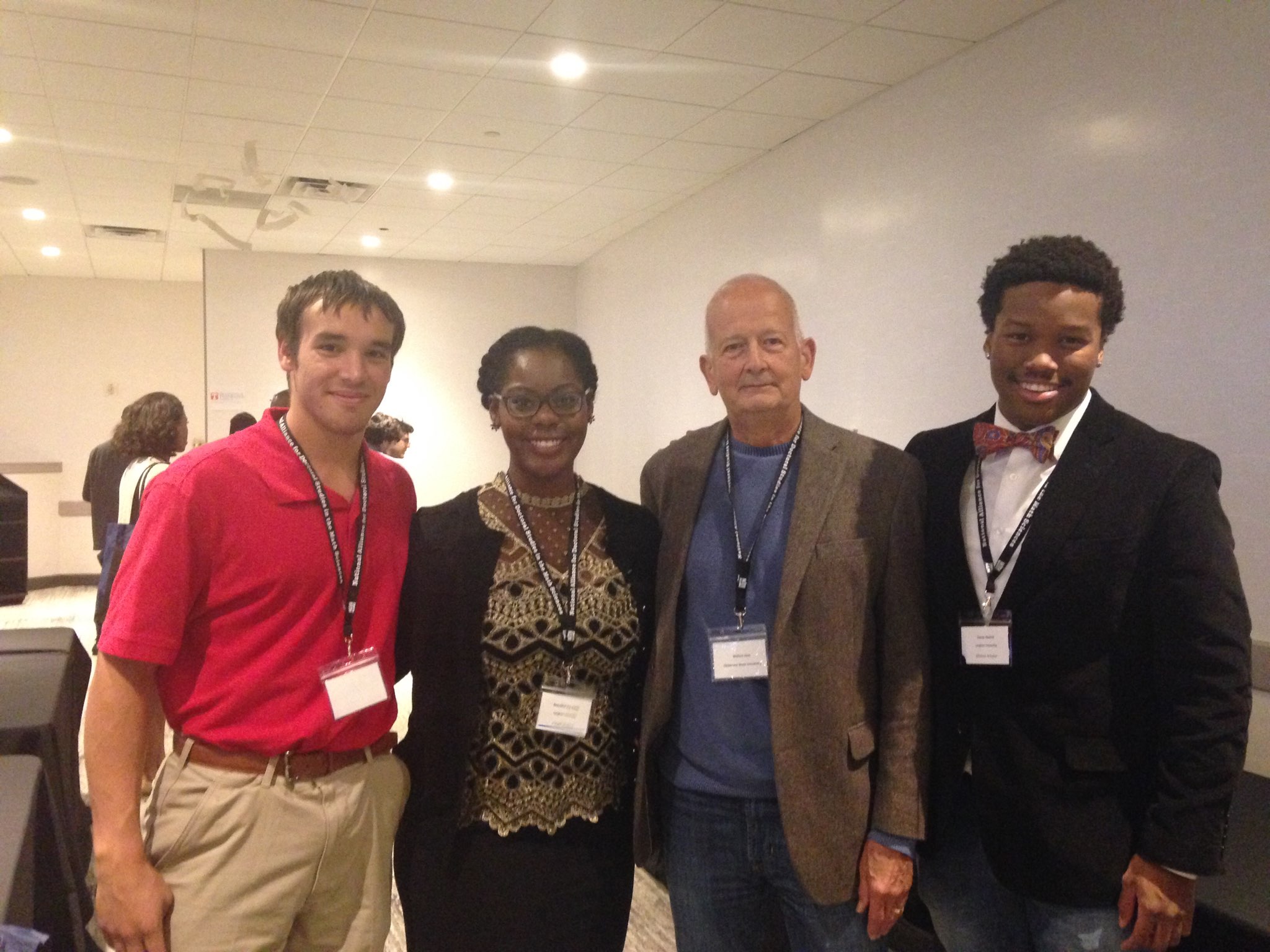 OK-LSAMP students attended the 2017 Field of Dreams Conference in St. Louis from November 3- November 5. The Field of Dreams Conference is put on by The National Alliance for Doctoral Studies in the Mathematical Sciences, to help attain the goal of "ensuring that every underrepresented or underserved American student with the talent and the ambition has the opportunity to earn a doctoral degree in a mathematical science." Specifically, this conference brings together faculty, undergraduate student and graduate students to work together, sharing strategies for graduate success, tips on finding the best fit graduate program, advice on the graduate school application process, and discussing the positive and negatives of different career paths.
This year's conference featured keynote speaker Dr. Garikai Campbell, Provost and Senior Vice President for Academic Affairs at Morehouse College. In addition, Dr. Christine Darden, a retired NASA Mathematician, data analyst and aeronautical engineer, spoke and was a panelist on "Hidden Figures No More."
Oklahoma State University is proud to be the lead institution of The Oklahoma Louis Stokes Alliance for Minority Participation (OK-LSAMP). Department of Mathematics Head, Dr. Jaco, attended the 2017 Field of Dreams Conference to represent OK-LSAMP and show Oklahoma State University's commitment to helping all students to Connect, Achieve and Succeed.
Emory Station train exhibit opened in memory of Emory Richmond
On November 1st, an open house was held at the Oklahoma Wondertorium to officially open Emory Station. Please read the Stillwater News Press article about the station and Emory; the little boy whose memory the station carries on.