Instructors' Resources for Geometric Structures
<![if !vml]>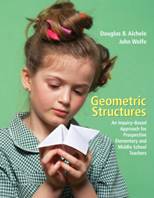 <![endif]>
This website contains documents intended to help teachers use the text Geometric Structures by Douglas B. Aichele and John Wolfe.
NOTE: This site is very much under active construction. Additional documents will be added through the fall of 2008.
This short 9 page document is intended to help you get started using the Geometric Structures textbook.
This document is to be an aide in picking and choosing among the many activities in the text. A table for each chapter identifies core and optional activities.
This document gives a syllabus for a one semester course. The listing of activities from the text is just one possibility which is presented to help new users to get started.
Training Activities which explicitly address the new roles of both teachers and students in an inquiry-based curriculum are described in this document. Information, a collection of transparencies, and a list of classroom activities are included as an aide for teachers as they develop their own approach to creating an engaging environment in their classrooms.
The following are discussed as an introduction to Study Teams: What is a Learning Group?; Some Logistical Issues Concerning Study Teams; Characteristics of Effective Study Teams. After this introduction, there is a comprehensive discussion of the GeoSET Study Team Model. The actual templates for classroom/syllabus use are provided for immediate copying. Midterm and final individual assessment instruments concerning this model are also provided. Information from the research literature on the history and use of learning groups, and the related role of mathematics in schools are discussed in the appendices for those interested in knowing how we got where we are today.
Any questions? Please contact either of the authors:
Douglas Aichele: aichele@math.okstate.edu
John Wolfe: wolfe@math.okstate.edu